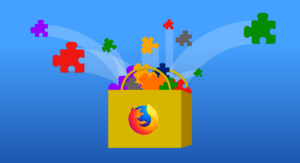 List of Extensions (Sun Sep 09 2018):
Add-on List-o-matic 9000 1.4
Helps create a list of all add-ons.
Awesome Screenshot – Capture, Annotate & More 3.0.21
Screen capture for all or part of any web page. Add annotations, comments, blur sensitive info, and share with one-click uploads.
http://www.awesomescreenshot.com
Decentraleyes 2.0.6
Schützt vor Tracking durch "gratis", zentralisiertes, Abliefern von Content.
https://decentraleyes.org
Disconnect 5.18.21
Make the web faster, more private, and more secure.
https://disconnect.me/
Ecosia – Die Suchmaschine, die Bäume pflanzt 4.0.4
Mit dieser Erweiterung kannst du Ecosia als Standardsuchmaschine einrichten, sodass du mit jeder Suche Bäume pflanzen kannst.
https://www.ecosia.org
Facebook Container 1.3.1
Facebook Container isolates your Facebook activity from the rest of your web activity in order to prevent Facebook from tracking you outside of the Facebook website via third party cookies.
https://github.com/mozilla/contain-facebook
Firefox Multi-Account Containers 6.0.0
Multi-Account Containers helps you keep all the parts of your online life contained in different tabs. Custom labels and color-coded tabs help keep different activities — like online shopping, travel planning, or checking work email — separate.
https://testpilot.firefox.com/
First Party Isolation 1.3.1
Enables First Party Isolation
https://github.com/mozfreddyb/webext-firstpartyisolation
Flagfox 6.1.5
Zeigt die Landesflagge des Server-Standortes der aktuell angezeigten Seite
https://flagfox.wordpress.com/
Form History Control (II) 2.2.0.0
Ein Add-on zur Pflege der Formularhistorie (Suchen, Editieren, Löschen, Export/Import) und einfacher Formularfüller, jetzt Multiprocess (e10s) und WebExtension kompatibel!
https://stephanmahieu.github.io/fhc-home/
Ghostery – datenschutzorientierter Werbeblocker 8.2.4
(Disabled)
Ghostery ist eine leistungsstarke Datenschutz-Erweiterung. Damit können Sie Werbung blockieren, Tracker stoppen und Websites beschleunigen.
Greasemonkey 4.7
(Disabled)
Eine Benutzerskript-Verwaltung für Firefox.
https://www.greasespot.net/
HTTPS Everywhere 2018.8.22
(Disabled)
Verschlüsselt das Internet! Nutzen Sie HTTPS-Sicherheit automatisch auf vielen Webseiten.
https://www.eff.org/https-everywhere
Nehmen Sie Screenshot der Webseite – FireShot 0.98.95.1
(Disabled)
Nehmen Sie die Homepage Screenshots,bearbeiten und speichern. Hochladen,Drucken,senden,um Photoshop,Zwischenablage oder per Email
http://getfireshot.com
Nimbus Screen Capture: Screenshots, Annotate 14.1.9
(Disabled)
Screen Capture FULL Web page or any part. Edit screenshots. Upload to Nimbus, Slack, Google Drive
https://nimbusweb.me
NoScript 10.1.9.1
Zusätzliche Sicherheit für Ihren Firefox: Mit NoScript können Sie JavaScript, Flash, Java und andere ausführbare Inhalte bloß auf vertrauenswürdigen Domains Ihrer Wahl zulassen, z.B. beim Online-Banking. Dieser whitelist-basierte präventive Ansatz verhindert das Ausnutzen von (bekannten und unbekannten!) Sicherheitslücken ohne Verlust an Funktionalität… Experten sind sich einig: Firefox wird wirklich noch sicherer mithilfe von NoScript 😉
http://noscript.net
Skip Redirect 2.2.1
Manche Webseiten leiten Benutzer auf eine extra Seite bevor sie auf die Seite weiterleiten die man eigentlich sehen wollte. Skip Redirect versucht diese Weiterleitung zu überspringen um direkt zur richtigen Seite zu gehen.
https://github.com/sblask/webextension-skip-redirect
Smart Referer 0.2.8
Smarte Referer überall!
https://github.com/meh/smart-referer
Tile Tabs WE 11.0
(Disabled)
Take tabs from parent windows and arrange them in layouts of tiled sub-windows.
https://addons.mozilla.org/addon/tile-tabs-we/
uBlock Origin 1.16.20
Endlich ein effizienter Blocker. Prozessor-freundlich und bescheiden beim Speicherbedarf.
https://github.com/gorhill/uBlock#ublock-origin
Web Developer 2.0.1
(Disabled)
Adds a toolbar button with various web developer tools.
http://chrispederick.com/work/web-developer/
Zotero Connector 5.0.41
Save references to Zotero from your web browser
https://www.zotero.org/